Get ready for Christ's second visit to earth!
by Glen Jackman | Posted January 25th at 10:15am
"When the Spirit of truth comes, he will guide you into all truth" (John 16:13 NIV)
We will look at the promise of Christ's second coming to earth, and its importance to all Christians and to those who have not yet accepted Christ as Lord of their lives. As a teacher of the Bible my goal is like the apostle Paul's, "to present you holy and blameless and above reproach before him" (Colossians 1:22 ESV)
It is noteworthy that Jesus referred to Himself as the embodied character of absolute truth and honesty as noted in these verses: "I am the Way, the Truth and the Life". He would often say in the gospel of John regarding the truthfulness of His words: "But because I tell the truth, you do not believe me." (John 8:45 ESV); and "If I tell the truth, why do you not believe me?" (John 8:46 ESV); and "Nevertheless, I tell you the truth…" (John 16:7 ESV) He would say "if it were not so, I would have told you" (John 14:6; 14:2 ESV). Before He ascended to the Father, He told His disciples that "When the Spirit of truth comes, he will guide you into all the truth" (John 16:13 ESV). All truth is not half-truths. Half-truths are lies. The apostle Paul wrote: "For all who are led by the Spirit of God are sons of God." (Rom 8:14 ESV)
With our Lord being bound to truth, and that fact that He is the son of God, he has long referred to Himself as the great "I am" who had years ago spoken to Moses in the burning bush (cf. Exodus 3:6; John 8:58) and whom theologians have biblically proven to be one with God: "All things were made through him, and without him was not anything made that was made. In him was life, and the life was the light of men". (John 1:3-4 ESV)
It stands to reason that He above all others would foretell only the truth. The following text describes the preeminence of Christ over all creation as the Creator God. When we understand that Jesus is God and that He created us, we can fathom why He is our redeemer who designed a plan with His Father in heaven to save us from our predicament of death: "He is the image of the invisible God, the firstborn of all creation. For by him all things were created, in heaven and on earth, visible and invisible, whether thrones or dominions or rulers or authorities—all things were created through him and for him. And he is before all things, and in him all things hold together. And he is the head of the body, the church. He is the beginning, the firstborn from the dead, that in everything he might be preeminent". (Colossians 1: 15-18 ESV)
Jesus made a definite promise that He is coming to receive His followers when He comes back to earth the second time – a promise my mother loved: "Let not your heart be troubled: ye believe in God, believe also in Me. In My Father's house are many mansions: if it were not so, I would have told you. I go to prepare a place for you. And if I go and prepare a place for you, I will come again, and receive you unto Myself; that where I am, there ye may be also." (John 14:1-3 KJV). The Book of Revelation, chapter 1, begins with a clear note that John received the prophecies in Revelation directly from the resurrected Jesus by an angel sent from heaven. It also states that it is the pure and direct testimony of Jesus Christ. Moreover, Jesus points out that the person who hears and abides by, cherishing this message that he sent for mankind via John, will be blessed!
The revelation of Jesus Christ, which God gave him to show to his servants the things that must soon take place. He made it known by sending his angel to his servant John, who bore witness to the word of God and to the testimony of Jesus Christ, even to all that he saw. Blessed is the one who reads aloud the words of this prophecy, and blessed are those who hear, and who keep what is written in it, for the time is near. (Revelation 1:1-3 ESV)
Greeting to the Seven Churches
Regarding the time of His second advent to the earth, Jesus  told his disciples that He would be visually seen by everyone: "And then they will see the Son of Man coming in a cloud with power and great glory." (Luke 21:27 ESV) Jesus also indicated that the world will not comprehend the importance of this event nor be prepared to meet Him: "Then will appear in heaven the sign of the Son of Man, and then all the tribes of the earth will mourn, and they will see the Son of Man coming on the clouds of heaven with power and great glory." (Matthew 24:30 ESV). His appearing will be no secret event – every eye will see Him.
Here Jesus the author of Revelation, through the messenger,  apostle John "the Revelator" agrees in his final prophecy regarding the end time: Behold, he is coming with the clouds, and every eye will see him, even those who pierced him, and all tribes of the earth will wail on account of him (Revelation 1:7 ESV)
The disciples were told by an angel at His ascension, that Jesus would return just as He left, on clouds: "Men of Galilee, why do you stand looking into heaven? This Jesus, who was taken up from you into heaven, will come in the same way as you saw him go into heaven." (Acts 1:11 ESV)
Evidently, we should be aware that many will not be prepared for this event! "But if that wicked servant says to himself, 'My master is delayed,' and begins to beat his fellow servants and eats and drinks with drunkards, the master of that servant will come on a day when he does not expect him and at an hour he does not know and will cut him in pieces and put him with the hypocrites. In that place, there will be weeping and gnashing of teeth." (Matthew 24:48-51 ESV)
Recent changes in Facebook have shown us how people can be distracted by being so engaged with applications on their smartphone in order to stay popular in our culture, sending each other philosophic or whimsical one-liners, or songs or movie clips. Don't get me wrong Facebook is a cool place to connect with your family (though I contend it could be done more intimately by email). Who has time for studying let alone reading the Bible in our digitized information age? Jesus knew that self-aggrandizement would overtake mankind. So what will the world be doing when Christ comes?
"But concerning that day and hour no one knows, not even the angels of heaven, nor the Son, but the Father only. For as were the days of Noah, so will be the coming of the Son of Man. For as in those days before the flood they were eating and drinking, marrying and giving in marriage, until the day when Noah entered the ark, and they were unaware until the flood came and swept them all away, so will be the coming of the Son of Man." (Matthew 24:37-39 ESV).
Jesus also said in Luke's account of the Gospel: "Likewise, just as it was in the days of Lot—they were eating and drinking, buying and selling, planting and building, but on the day when Lot went out from Sodom, fire and sulfur rained from heaven and destroyed them all—so will it be on the day when the Son of Man is revealed." (Luke 17:28-30 ESV)
I don't think that it is wrong in itself to eat, drink, marry, buy, sell, plant, or build, but that men's minds will be so taken up with a zillion common distractions that they will give little or no thought to the future life, and make no plans or preparation to meet Jesus when He comes. Satan has most of mankind hoodwinked. Yes, "in their case the god of this world has blinded the minds of the unbelievers, to keep them from seeing the light of the gospel of the glory of Christ, who is the image of God." (2 Cor. 4:4 ESV)
The teaching of the return of the Lord to this earth is taught in the New Testament just as clearly as any other truth. Yet few sermons are preached on it. The church makes a great deal of baptism; but in all of Paul's epistles, baptism, as important as it is, is spoken of only thirteen times. The bible speaks about the return of our Lord fifty times. Yet the church has had very little to say about it. The devil does not want the church to see this truth because this truth would wake up the church. Once I understood that Jesus Christ is coming back again to receive His followers to Himself, the world and all its philosophic concepts of Utopia, lost its hold on me.
The doctrine of Christ's coming is ancient scriptural teaching going back in time: "It was also about these that Enoch, the seventh from Adam, prophesied, saying, "Behold, the Lord comes with ten thousands of his holy ones." (Jude 14,15 ESV) Job a man of antiquity, also expressed similar confidence in Christ's coming to receive him as a follower of God: "For I know that my Redeemer lives, and at the last, he will stand upon the earth. And after my skin has been thus destroyed, yet in my flesh, I shall see God, whom I shall see for myself, and my eyes shall behold, and not another." (Job 19:25-27 ESV)
How did the prophet King David speak of Christ's judicial focus: "Our God comes; he does not keep silence; before him is a devouring fire, around him a mighty tempest." (Psalms 50:3 ESV). And "For he comes to judge the earth. He will judge the world in righteousness, and the peoples in his faithfulness." (Psalms 96:13 ESV). Notice that David knew that on the day of His return we will come face to face with "His truth".
How did the apostle Paul give expression to this hope? "But our citizenship is in heaven, and from it, we await a Savior, the Lord Jesus Christ." (Philippians 3:20 ESV); and in Titus 2:13 he wrote: "waiting for our blessed hope, the appearing of the glory of our great God and Savior Jesus Christ".
What is Peter's testimony regarding the interventions of the Lord with the populace of the earth? "We did not follow cleverly devised myths when we made known to you the power and coming of our Lord Jesus Christ." (2 Peter 1:16 ESV)
Here is the most thorough presentations of the Second Advent of Jesus Christ to this earth.
Please contact the author with your comments 
---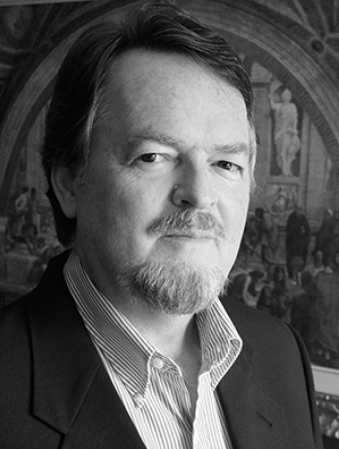 Article posted by Glen R. Jackman, founder of GraceProclaimed.org
Glen has optimized his eldership role to teach the full scope of the New Covenant of Jesus Christ without boundaries.
You can read his testimony.