Death has passed unto all men: Learn how to be ready.
September 12th at 10:00am
"For the wages of sin is death, but the gift of God is eternal life in Christ Jesus our Lord." (Romans 6:23 NIV)
No matter what our age we have this in common with all men: We all are one day closer to death and the grave. We are closer to eternal life, or eternal damnation. Some emphasize a hell, others view the final lake of fire that the unrepentant who do not accept Jesus will face as their final judgment.
Death Through Adam, Life Through Christ "Therefore, just as sin entered the world through one man, and death through sin, and in this way death came to all people, because all sinned". (Romans 5:12 NIV) The good news of the gospel is that death does not have to be the end of the road.
Though we die physically we have an eternal dimension to our spirit that God gave us at birth. Indeed, "the wages of sin is death, but the gift of God is eternal life in Christ Jesus our Lord." (Romans 6:23 NIV) You can make an exchange from a hopeless death and the final fires of judgment by making a simple exchange, if for nothing else for personal gain. God will start with you right now, wherever you are if you can accept what Jesus is offering you. The text reads, not death when you believe "but the gift of God" which is "eternal life in Christ Jesus our Lord."
Make the Exchange You can make an exchange from a hopeless death and the final fires of judgment by making a simple exchange, if for nothing else for personal gain.
Death is a result of sin Speaking to Adam, the first man, God said:
"Because you listened to your wife and ate from the tree that I commanded you not to eat from…The very ground is cursed because of you; getting food from the ground will be as painful as having babies is for your wife; you'll be working in pain all your life long. The ground will sprout thorns and weeds, you'll get your food the hard way, planting and tilling and harvesting, sweating in the fields from dawn to dusk, until you return to that ground yourself, dead and buried; you started out as dirt, you'll end up dirt." (Genesis 3:17-19 MSG)
The ancient prophet Job noted that life is fleeting. "My days are swifter than a weaver's shuttle, and they come to an end without hope. Remember, O God, that my life is but a breath; my eyes will never see happiness again. (Job 7:6-7 NIV)
Every person will face death. "We'll see death soon enough. Everyone does. And there's no back door out of hell". (Psalm 89:48 MSG)
The death of Christians is precious in the sight of God. "Precious in the sight of the LORD Is the death of His godly ones". (Psalm 116:16 NASB)
Christians enter perfect peace with God at death. "Those who walk uprightly enter into peace; they find rest as they lie in death. (Isaiah 57:1-2 NIV)
Christians are welcomed into the presence of the Lord Jesus when they die. "And while they were stoning Stephen, he prayed, Lord Jesus, receive and accept and welcome my spirit!" (Acts 7:59 AMP)
God provides eternal life. "God's gift is real life, eternal life, delivered by Jesus, our Master". (Romans 6:23 MSG)
When you believe in Jesus Christ, you never really die. "Jesus told her, "I am the resurrection and the life. Anyone who believes in me will live, even after dying". (John 11:25 NLT)
Jesus will raise everyone who has died. "But Christ has indeed been raised from the dead, the firstfruits of those who have fallen asleep. For since death came through a man, the resurrection of the dead comes also through a man. For as in Adam all die, so in Christ all will be made alive. But each in his own turn: Christ, the firstfruits; then, when he comes, those who belong to him". (1 Corinthians 15:20-23 NIV)
Make the intelligent choice: Using the stock market as an analogy
For men approaching or in retirement, it is important that our investments do well. It often comes down to good choices when you weigh your investment options. Compare this to believing or not believing the Bible when it states that Jesus Christ is Lord of your life and all created life. Death and judgement without Christ could be viewed as a market crash! Conversely, life in Christ can be viewed as your life prospering, getting better and succeeding abundantly. Again look at the hope here: "in Christ all will be made alive"! That's not a bad personal investment – better than buying into a good stock versus being a sucker to buying a lousy stock.
Why death is like a deadbeat investment. Again look at the hope here: "in Christ all will be made alive!" That's not a bad deal. Like selling off lousy stock to buy good stock. Bad stock sucks the life out of your portfolio. Good stocks eventually pay off long term. Don't get hoodwinked by the crowd of cowards who prefer popularity over repentance, and staying obstinate in disbelief. Simply sell the lousy stock, and repent. I prefer the end-game, in the profitable margins of the market of life. Just don't buy the crappy stock offerings that other unbelievers might serve up.
Simply repent. Why would anyone remain in the sin of disbelief instead of repenting and accepting Jesus as your loving Saviour? Accept the profitable margins of eternal Life. Just don't buy the crappy mental-stock offerings that other unbelievers might tell you will win and make you spiritually prosper. Dump that deadbeat investment. Like a smart investor weigh your options.
Living in heaven is better than living on earth. "It's what we trust in, but don't yet see, that keeps us going." (2 Corinthians 5:7 MSG) Death is not the end of a person's life, it is a transformation to renewal in Christ. We may not understand how this will be physically achieved. It is easier if you see the creator as in control of all atomic physics in time within a limitless spatial universe. All true mathematical formulas and scientific theory are under His control.
The offer is for your taking simply by believing. As the creator, Jesus is given full control over his universe, and over death. This is very important to understand before you die, in order that you also may have eternal life:
"For as the Father raises the dead and gives them life, so also the Son gives life to whom he will. The Father judges no one, but has given all judgment to the Son, that all may honor the Son, just as they honor the Father. Whoever does not honor the Son does not honor the Father who sent him. Truly, truly, I say to you, whoever hears my word and believes him who sent me has eternal life. He does not come into judgment, but has passed from death to life. 'Truly, truly, I say to you, an hour is coming, and is now here, when the dead will hear the voice of the Son of God, and those who hear will live'". (John 5:21-25 ESV)
We all must prepare our spiritual life for death. My own dear mother held to the hope that Jesus, as He promised, had a place prepared for her. (see John ch. 14) Our hope in Jesus caring for our soul after death: "Brothers, we do not want you to be ignorant about those who fall asleep, or to grieve like the rest of men, who have no hope. We believe that Jesus died and rose again and so we believe that God will bring with Jesus those who have fallen asleep in him." (1 Thessalonians 4:13-14 NIV)
"And just as it is destined that each person dies only once and after that comes judgment, so also Christ died only once as a sacrifice to take away the sins of many people. He will come again but not to deal with our sins again. This time he will bring salvation to all those who are eagerly waiting for him." (Hebrews 9:27-28 NLT)
All our boasting will end. We don't know how long we'll live so let's not boast about tomorrow: "Now listen, you who say, 'Today or tomorrow we will go to this or that city, spend a year there, carry on business and make money.' Why, you do not even know what will happen tomorrow. What is your life? You are a mist that appears for a little while and then vanishes." (James 4:13-14 NIV)
God will destroy death. "He will wipe all tears from their eyes, and there will be no more death, suffering, crying, or pain. These things of the past are gone forever." (Revelation 21:4 CEV)
If you have any comments or would like me to visit with you or pray with you, please write Glen Jackman.
---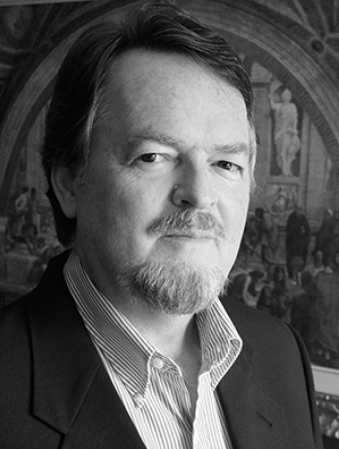 Article posted by Glen R. Jackman, founder of GraceProclaimed.org
Glen has optimized his eldership role to teach the full scope of the New Covenant of Jesus Christ without boundaries.
You can read his testimony.